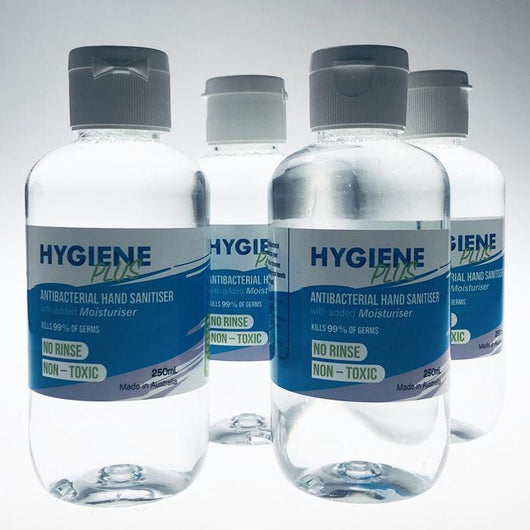 Hand Sanitiser 250 ml
Regular price $12.99 $9.99 Sale
Hygiene Plus Antibacterial Hand Sanitiser is an Antibacterial, Alcohol-Free Instant Hand Sanitiser that kills 99% of most common germs that may cause illness fast. Plant-based, fragrance-free formula is powered by Benzalkonium Chloride, a safe and effective antiseptic. 
Hygiene Plus Antibacterial Hand Sanitiser is dispensed easily from a flip top cap, it is fragrance & dye-free leaving the skin feeling soft and refreshed without the strong smell of alcohol or chemical fragrances.
Benzalkonium Chloride is one of the safest biocides, it has a long history of efficacious use. Deemed safe and widely used in many eyewashes, cosmetics, mouthwashes and many other cleaners, sanitisers and disinfectants. Benzalkonium Chloride has residual antibacterial qualities continuing to kill germs hours after initial application.
Fragrance & Dye-Free
Bio-Based
Non-Flammable
Alcohol Free
Safe to use
No harsh chemicals or acids
Ingredients: Aqua, Benzalkonium Chloride , Coco Glucoside
TAGS:
Catering
Catering Supplies
COVID-19
COVID-19 Supplies
Hand Sanitiser
Sanitiser